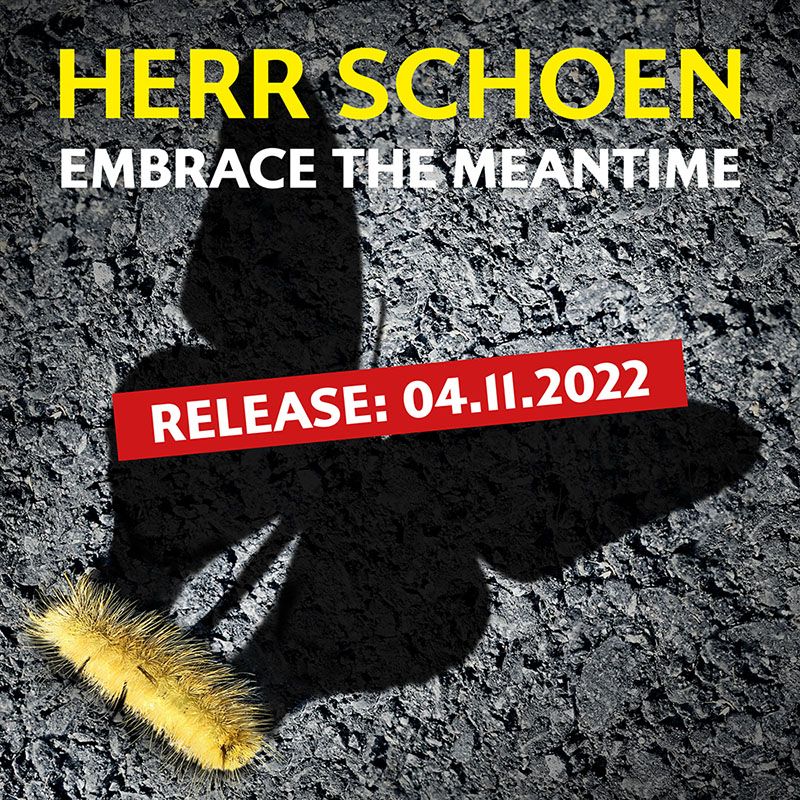 ALBUM RELEASE INFORMATION
Embrace The Meantime
Das ungeplante Album für die Zwischenzeit
Im Frühjahr 2020 fing das Drama an: Corona. Wie wohl die meisten von uns, verbrachte auch ich nun viel Zeit zuhause. Ein paar mal streamte ich mit "Herr Schoen live aus dem Herrenzimmer" online Live-Konzerte. Doch es blieb immer noch so viel Zeit. Also begann ich damit - erst am iPad und dann am Mac -, neue Musik aufzunehmen und alte Songs fertig zu stellen. Und ich schrieb einen Song nach dem anderen. Die latente Spannung, die über dieser Zeit lag, schien mich zu beflügeln. Irre.  
Irgendwann dachte ich, dass ich nun ausreichend Material für ein neues Album hatte. Doch es hörte irgendwie nicht auf. Die Ideen sprudelten weiter aus mir heraus. Und die technischen Möglichkeiten, zuhause am Mac bis in die Nacht Ideen aufnehmen zu können, beflügelten mich zusätzlich. Ich probierte neue Sounds aus, wagte mich an ungewohnte Arrangements. Und irgendwann stellte ich fest, dass ich knapp drei Jahre nach meiner Album Release Premiere und vor dem eigentlich geplanten neuen Album noch etwas loswerden musste. Songs, die nicht länger auf eine Veröffentlichung warten wollten. Die nicht auf das geplante Album passen wollten. 
Was blieb mir also anderes übrig, als ein Album "dazwischen" zu schieben. Ein Album, das irgendwie aus zwei Hälften zu bestehen scheint. Mit einem Opener, der ganz langsam und zart beginnt und sich dann immer mehr aufbäumt. Songs voller Traurigkeit wechseln sich mit fröhlicher Unbekümmertheit ab. Eine freche Klappe mit vorsichtigen Worten. Und eingerahmt werden die insgesamt 12 Songs von zwei Titeln, die zweisprachig in griechisch-englisch angelegt sind. 
Ist EMBRACE THE MEANTIME also experimentell? Ja, in Teilen vielleicht. Ist es ein Lückenfüller? Ganz bestimmt nicht. Es baut eher eine große und mächtige Brücke in die Zukunft. Man könnte sagen: Es musste einfach raus. Und ich kann nur hoffen, dass ihr das nach dem Hören genauso seht. Und dass ihr es gern immer wieder und wieder hört.
Meine Bitte an euch: Nehmt euch die Zeit, das Album am Stück zu hören. Ihr werden den roten Faden hören und spüren. Und ich hoffe, ihr fühlt euch danach belohnt. 
EMBRACE THE MEANTIME habe ich tatsächlich im Alleingang geschrieben, aufgenommen, gemischt und gemastert. Aber ich mache kein Hehl daraus, dass es ohne die vielen Tipps und die Geduld von Ole "Shibby" Kuhlmann schwer geworden wäre, das Album auf dieses Level zu heben. Danke, Shibby! 

Und bei Pavlos und Adonis bedanke ich mich für die Unterstützung bei den griechischen Passagen im ersten und letzten Song. Ich hoffe, es klingt nun auch ein bisschen griechisch. Ihr wisst, dass ich dieses Land und die Menschen liebe. Anspieltipp: THIS COUNTRY. 
Und wie immer danke ich meiner Familie und meinen Freunden für die vielen Stunden, die ihr mich entbehren musstest und die vielen Momente, in denen eure Ohren vermutlich geglüht haben. Und vor allem danke ich euch für den Support gerade in den letzten Monaten, in denen das Leben ein wenig aus den Fugen geraten ist. Manchmal ist das halt so.
Und dann bleibt nur eins: EMBRACE THE MEANTIME!
Songlist: 

You Will Never Know Me
This Country
Dark And Dirty
Small Man
Together
Only The Memories Remain
Stop
Our Daily Red (instr.)
Keith 
One More Glass Of Wine
Never Again
Embrace The Meantime

total playing time: 57:08 min
Dieses Album ist für dich, Mama. 
Lyrics